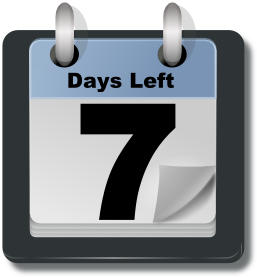 You have 7 days (1 week) left to book and pay for on-site accommodation at BiCon 2011. We have a page about our accommodation with some details about the differences between en suite and standard. There are also still adapted rooms available as well.
You can find more information about on our booking and prices registrations page.
BiCon's History Exhibition
This year at BiCon to help marking the 30th anniversary of the group that founded BiCon we will have an Exhi-BI-tion to celebrate the history of the bi community and bisexuals which we hope many people will contribute to by lending exhibits.
Some examples of useful exhibits would be t-shirts, magazines, past flyers or posters, leaflets, press clipping or other event write ups or any other memorabilia of the last 30 years of the UK Bi community and BiCon.
We don't need your items until BiCon itself if that's easier, but if we can have confirmed offers and details of sizes by 15th August then we can prepare suitable sections and print headers.
We will take great care of your items but photocopies are suggested for anything irreplaceable. Items including fabrics will be displayed in a way that avoids pins or other marks.
Please email details of your exhi-bi-tion offering to Kaye at email address removed including size, format and any questions you have about display methods.
We're really looking forward to seeing everything assembled!